Palmie bistro-Cyprus Airways: New strategic partnership
Published at 04/05/2012
On March 8th,  Palmie bistro chain launches a new- ''overhead'' this time-cooperation with Cyprus Airways, offering everyday a meal for two people, on each flight!

More specifically, during the whole period from the 8th of March 2012 till the 30th of April 2012, for every single of the 3 flights which take place daily from Larnaca to Athens, a dinner for two people will be determined by lot, meaning totally 3 meals a day.

The process is simple: All passengers will be given some special coupons, where they will be asked to fill some personal information. The draw will take place inside the airplane and the'' Lucky Passenger'' who will win, will be announced during the flight.

Winners can redeem their ''delightful'' gift directly to any Palmie bistro shop they prefer.

Travelling to Cyprus??  You can become ... our lucky passenger!!!
ABOUT PALMIE BISTRO SHOPS
Palmie bistro Chain first opened in 1966 and till this moment it has created stores in Athens, Piraeus and the region of Attica, in Karditsa, Heraklion as well as one store overseas in the city of Skopje, each of which has its own character, but always remains true to its motto "quality food, reasonable prices, attentive sensory environment", consistently advocated by  Palmie bistro chain.

Palmie bistro shops combine several services, which turn the Greek habit of '' going out to eat or drink'' into a daily money for value habit, where a person can find all the elements that build a sense of affordable luxury in the quality of food, the environment and every client's service.

For more information please contact Mr. Christos Koutroulias, Marketing Director of PALMIE BISTRO, tel: 210-72 10 953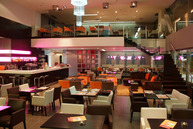 08/05/2012
Palmie bistro has been involved in the mass catering and leisure sector since 1966, flaunting from the very beginning a steady and continuous development, sticking always to the values of the triptych ...