CARTRIDGE WORLD- Expansion to the Balkan market- New target: Slovenia
Published at 24/04/2012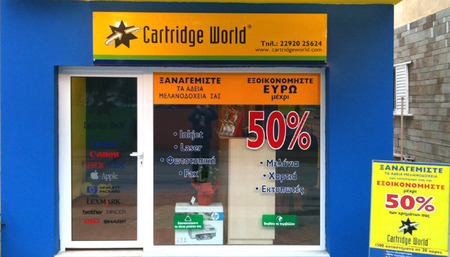 Cartridge World, the world's fastest growing printer cartridge refill franchise concept, has announced its rapid expansion plans for Slovenia, as it plans to open 10 shops, offering local consumers a cost effective way to Reduce, Reuse, and Recycle.
The first Cartridge World shop in the Balkans was launched in Varna, Bulgaria in 2005. There are now 3 shops in Bulgaria, 4 in Slovenia, 1 in Croatia, 1 in Serbia, 1 in Albania and 1 in Romania. According to the company's business plan, more shops are to open in all major cities.
With nearly 20 years experience and over 1,700 stores worldwide, Cartridge World is the leader in refilling and remanufacturing empty printer cartridges. Cartridge World refills empty ink and toner cartridges for inkjet printers, laser printers, fax machines and photocopiers with top quality, brand-specific ink and toner. At the same time it offers consumers and businesses up to a 50% savings, a money back service guarantee and helps the environment by keeping used cartridges out of landfills. Cartridge World also carries a wide assortment of brand name cartridges including Cartridge World brand cartridges. All products and services are backed by a 100% satisfaction guarantee.
Recycling cartridges is environmentally friendly and consumers can feel good about supporting a sustainable development for the planet's limited natural resources and not adding to an already overloaded landfill. With a continued commitment to recycle printer cartridges, Cartridge World looks forward to the day that recycling cartridges becomes a habit.
A few good reasons to recycle printer cartridges:
More than 3.4 litres (3/4 gallon) of oil are needed to make one new laser cartridge
In just 12 months, cartridge recycling could save 4.3 million litres of oil in a country of 22 million people
A laser cartridge thrown into landfill can take up to 450 years to decompose
Cartridge World is seeking for more franchise partners in Bulgaria, Slovenia, Croatia, Serbia, Albania, Romania, Moldova, FYROM, Bosnia and Montenegro. For further information, please visit www.cartridgeworld.com. Telephone +30 210 6817060 or Email franchise@cartridgeworld.gr.
Note to the editors:
Cartridge World
Cartridge World, founded in Australia in 1988, is the world's fastest growing ink and laser refill retailer in the printer cartridge industry. Cartridge World has more than 1,500 franchised retail locations worldwide. Cartridge World is providing consumers and businesses with an alternative to reduce the impact of millions of cartridges that are thrown away and end up in landfills each year. This proactive solution to waste reduction is a win/win for consumers, entrepreneurs and the environment. In addition to being environmentally responsible, Cartridge World and recycling cartridges also creates jobs locally.

02/05/2012
Refilling printer cartridges - A booming industry Over the past few years, refilling printer cartridges has become one of the fastest growing industries in the world. And when you look at the facts, it's ...
05/04/2012
For the past two years the franchising market in Bulgaria has been booming. Since the end of 2007 the number of companies offering franchise in Bulgaria has tripled. Yet, by the end of 2008 their number ...