FRANCHISE SUCCESS participates to foreign franchise exhibitions
Published at 24/05/2012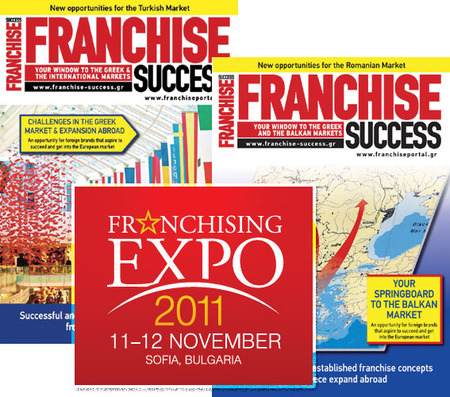 FRANCHISE SUCCESS magazine responds to the Greek extroverting to new markets abroad and participates to foreign exhibitions. For each participation it published a Special Edition with Greek companies that want to develop abroad especially to the hosting country and important information about the Greek market. Through these participations it created a wide network with entrepreneurs that want to invest in franchising and in Greek companies and enhanced the awareness regarding the Greek companies abroad. Parallel to the Special Editions FRANCHISE SUCCESS promotes the Greek companies, the advantages of investing in foreign markets and franchising in general through www.franchise-success.gr and www.franchiseportal.gr.  FRANCHISE SUCCESS is always responsive to the needs of the Greek market and the entrepreneur and always invests in innovative ways of promotion.
To be more precise:
FRANCHISE SUCCESS during 2011 participated to:
International Franchise and Business Exhibition (IFBE) in Bucharest, Romania, 20-22 May 2011
«Be my Dealer» in Istanbul, Turkey, 29 September - 2 October 2011
Franchising EXPO 2011 in Sofia, Bulgaria, 11-12 November 2011
The visitors of the above mentioned exhibitions expressed an intense interest in Greek franchise companies and they requested more information. FRANCHISE SUCCESS through its representatives promoted effectively the Greek companies that participated to the Special Editions it published for each exhibition.
05/04/2012
FRANCHISE SUCCESS is the first Greek franchise magazine since 1998 and constitutes the portal to the Greek franchise market.  It addresses franchisees, franchisors and most types of networks. Through ...